Little Blessings is HIRING for Substitute and Part Time Teaching Positions for the Second Semester: 
Competitive Pay, Flexible Hours, Caring Environment &

 

Em

ployee

Discounts for Tuition 
Just click here to get started!
---
Preregistration is open Click on the links below.
Full-Time Program (over 7 hours daily)
Traditional Program (under 6 hours daily)
Completion of the pre-registration DOES NOT guarantee a spot in any class
Pre-Registration closes on Jan. 28th 2022
No money due now, Enrollment fee not due until you have been notified that your child has a spot in the classroom.
---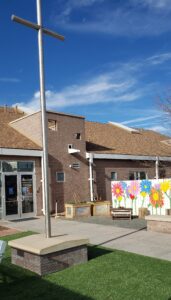 Parent Information Night Tuesday Jan. 11th 6:00pm
Please enter through the Preschool doors nearest the playgrounds.
All Welcome!
Meet some of the teachers!
Visit the classrooms!!
Ask questions along the way!
---
Kindergarten Information Night Wednesday Jan. 12th 6:30pm
Please enter through the Preschool door, nearest the playground.
All Welcome!
Come Meet Mrs. Murphy!
Ask your questions!
---
Thank You Community Helpers!!!
Law Enforcement

Fire Fighter

Helicopter Pilot (flight for life)

K-9 Unit

Trash Collector ( the children love when he drives by, he always honks!)
---
Weaving fun, the colors, the laughs, the smiles…the children loved doing this! 
---
---
 Attendance Line
720-204-4419

If your child is absent from school for any reason, including vacations, please call the number above and leave the following information:
*Your name
*Name of child
*Reason for absence
*If absence is illness related – provide symptoms child is experiencing
---
Below is a quick reference guide to" How sick is to sick?"  We know that this is a confusing time, but we thank each of you for supporting us in our effort to stay healthy!  As always, please ask questions.
---
---
Upcoming Important Dates:
2021/2022
Jan. 4 & 5………………………….Welcome Back, Start of 2nd semester
Jan. 10th-14th…………………..Western Week
Jan. 11th…………………………..Parent Information Night (all welcome) 6:00pm
Jan. 12th………………………….Kindergarten Information Night (all welcome) 6:30pm
Jan. 17th………………………………Closed For MLK day (Traditional & Year Round)
Feb. 15th & 16th………………..Sweetheart Breakfast 8:00 am-8:45 am
Feb. 21st ………………………….Closed for Presidents day (Traditional and Year round)
Feb. 28th-Mar. 4th…………..Bookfair
---
School Newsletters:
---
"Learn the Signs. Act Early!"  "Milestones Matter!"   www.cdc.gov 
Follow the links to download the Tracker below!
---
"Play is often talked about as if it were a relief from serious learning. But for children play is serious learning. Play is really the work of childhood." ~Mr. Rogers~


ARVE Error: Invalid URL "https://youtu.be/6BPz_QAqSAU" in url